The Business Case for Sustainability
As a company you should be asking yourself three questions:
1. How will my current business model change in the next ten years?
2. What challenges will my company face as a result of changing markets and regulations?
3. What can my company do to create a more sustainable world?
Companies that set course for sustainable transformation are able to tap into new market potentials and through modernization and improved efficiency also become more resilient and independent.
– Sustainability means future viability and resilience –
Companies need to take an active role in shaping the transformation that's needed, securing their future and opening up new business areas.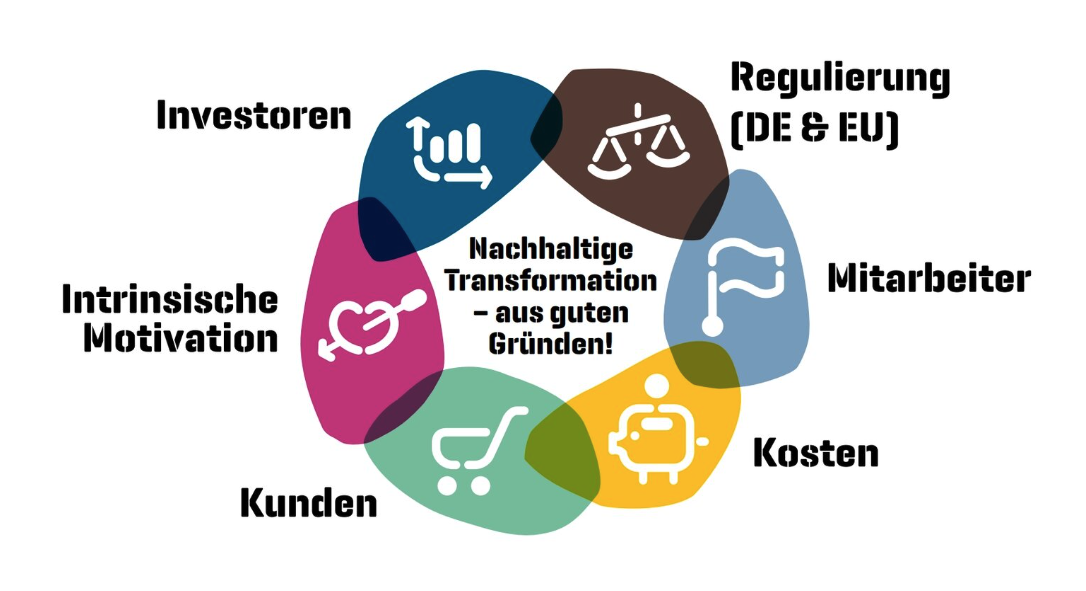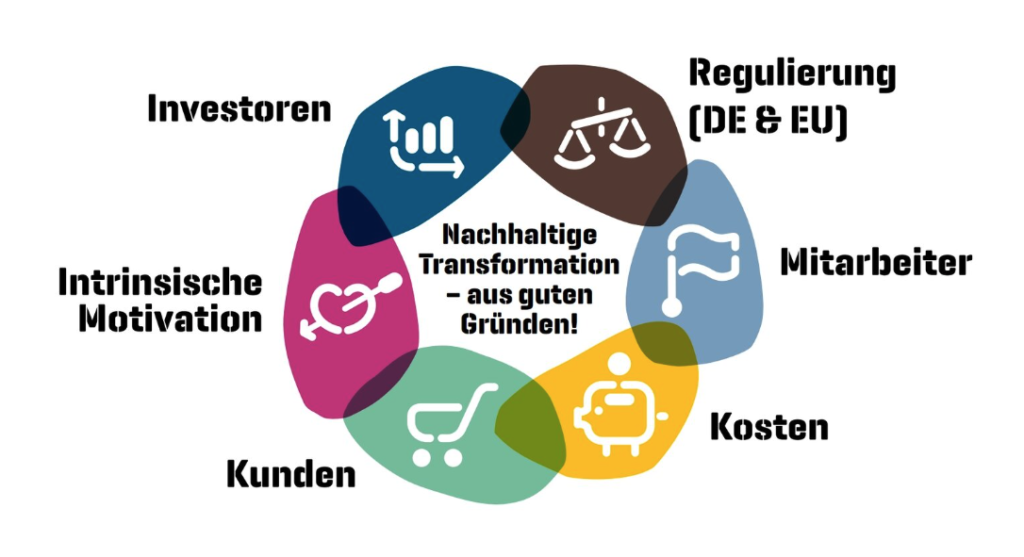 Sustainable transformation – for good reasons!
Investors
Regulation (German + EU)
Employees
Costs
Clients
Intrinsic Motivation
Your journey to sustainable transformation
If you're now wondering how best to get started and what steps to take first, then we're the right partner for you. We can help you find the answers to these questions and together develop a strategic vision for a sustainable future.
1. The analysis
From stakeholder analysis and double materiality analysis to performance analysis: we will uncover your sustainability potential and find out where your greatest potentials for sustainability lie.
The stakeholder analysis: Social acceptance and cooperation with relevant social actors (stakeholders or stakeholder groups) are crucial for the successful future development of your business. How are the market and the demands of the stakeholders in and outside your company changing? Together we will determine which are the most important stakeholder groups and how they should be regularly involved in the long-term strategic orientation of the company.
The (double) materiality analysis: This provides information about which fields of action are central and essential to your company. Double materiality describes the influence of social and environmental issues on your business model and the impact of your business activities on society and the environment.
The performance analysis: Do you know your exact sustainability performance? Compare yourself to pioneers and work out to what extent you are already implementing potential sustainability measures, based on your company's main fields of activity.
Doing the right things: The building blocks of a sustainable corporate strategy
2. Big picture and corporate strategy
We will help you to sketch out the big picture and together we can develop your vision and mission. In our sprints, we explore how regenerative business is possible within planetary boundaries, like climate, resources and biodiversity, and can contribute to preserving life on this planet. On the basis of that, we will then move on to more concrete steps, exploring what exact challenges and opportunities await you and developing a corresponding business strategy together. Alongside this we will create a sustainability program architecture with short-, medium- and long-term targets and indicators. 
3. Sustainability program and implementation
The program architecture we will draw up includes concrete pathways and targets that will impact your key fields of action. By the end, you will have a strategic vision that will not only make you resilient as a company, but also expand your field of business and attract new partnerships and stakeholders, new customers and new, motivated employees. You will be able to position yourself as a pioneering company, able to meet upcoming national and international regulations with your commitment to sustainability.
"For consulting to be efficient, we need to work together honestly, in an agile way and on a level playing field."
Our expertise: holistic, values-based and on a level playing field
We are drivers of your development. Our experienced strategy consultants have countless years of interdisciplinary experience and work together according to the principles of co-creation. We don't work in silos or use outdated terminology. For consulting to be efficient, we need to work together honestly, in an agile way and on a level playing field. We will work to inspire both you and your staff members and ensure that you continue to be supported after the consultation ends – even if the regulations underlying your sustainability strategy are changed. 
Our work with our clients is:
On a level playing field
Empowering
Agile
Co-creative
A wide range of different companies have already gone on this journey with us. With the Malteser aid agency, we came up with a plan for how they could not only help millions of people, but also give a helping hand to the climate too. And for the environmental consultants at HPC, we developed a new strategy that took their internal and external communication to whole new level.
A strategy marks the start of your development into a sustainable company. Of course, strategy isn't everything. But then again, without a strategy you have nothing at all.
Culture Sprint
Culture for Future – Your Sprint for Sustainable Culture Change
We show you how to successfully build a strong organizational culture and create structures that generate sustainable growth for the greatest possible strategic impact and long-term competitive advantage.
To the offer
Communication Strategy
Communication for Future – Your Path to Sustainability Communication
With lots of creativity and a clear focus on all of the impressive work you have already done, we communicate your sustainability strategy and successes. No greenwashing, guaranteed.
To the offer
Strategy Sprint
Strategy for Future – The Strategy Sprint for Sustainability
Our digitally supported sustainability analysis is the first important step in your journey of sustainable transformation. At the heart of the strategy sprint is the N-Kompass.
To the offer