Bursting the Bubble.
An interview with Antje Meyer, strategic communication and leadership expert and Sofia Elisabeth Ratzinger, communication trainee at sustainable natives. Antje Meyer answers questions about how her career in communications led her to the sustainability sphere and the importance of changing the way we communicate about the good stuff.
Sofia: Why are you a sustainable native?
Antje: I have really strong roots to my childhood. Being born and raised in the countryside, I have a deep connection to nature. I spent my childhood in the forests, on the fields, in the gardens where we grew our own food, in our kitchen where we cooked and on the land where we built our home. I learned all of the "do-it-yourself" skills but did not appreciate that I could do all of these things. These skills seemed to have lost its value -well at least until it became a trend to "DIY". During my youth the ultimate pursuit was hedonism and all that came along with it: career, money and luxury. Through some personal insights I began to notice the problems of the world. The skills that I learned at that time and the relationship to the environment around me, all became very important to me again. I am a sustainable native because as a child I was one. Through my career I got to know both sides of the story and realised I wanted to bring them together; the closeness and appreciation to nature and people as well as the fun and pleasure in life. That's why I'm glad that I found sustainable natives, where there are people who acknowledge the state of the world and do something to fundamentally change it.
You speak of some personal insights which lead you to realise the problems of the world. What was that experience?
When I became a mother. 17 years ago when my daughter was born, I began to look at the world through a different lens. I became smaller and everything around me became louder, bigger and darker. All because I perceived it through the sensitive eyes and ears of my child. I began to reflect on my childhood, seeing the possibilities that my daughter has and doesn't have, all because she was growing up in the middle of a city. I had to wrap my head around seeing the good in both the urban lifestyle and the countryside. I began to ask myself what does it mean if we would all live in the city rather than in the country? What kind of consequences does shifting everything to the city have? Aren't we going to have a big problem here? These were the first references that I personally and consciously had towards the state of the world.
How did you personally get involved in the topic of sustainability?
One of the first times I became aware of sustainability as a topic was when a client of mine needed arguments for sustainability in their pitch presentation that I was doing for them. They asked if I could just quickly do a slide on sustainability. As communication specialists, one has to be particularly sensitive, truthful and authentic to topics that they discuss. After that I basically dove deep into the topic. It was then clear to me that quickly communicating about sustainability doesn't work because at that time there was more talk than action. This was the time of greenwashing – about 15 years ago. I began to notice the context appearing more and more especially with our clients from the nutrition and food industry. I knew there was a lot to do, so I personally, through my position as a member of the Chamber of Commerce and Industry of Berlin (IHK Berlin), took the opportunity to create the CSR (Corporate Social Responsibility) position as it did not yet exist. I found it inconceivable that the Chamber of Commerce of Berlin had not yet familiarised themselves with this. After being appointed, I took over the position as spokeswoman for CSR, formed working groups and brought experts together to build a basis for this field.
Considering some of the global drivers you see in the world, what are you and sustainable natives most excited to work on next?
Communication and leadership are my area of competence. The whole area of communication is hugely underestimated in management, both in traditional forms of communication as well as in content creation. We have an unbelievably huge potential for improving communication. We need to work on how we can connect the world more effectively and bring more understanding between people. This can be in the small, such as direct face-to-face communication as well as in the big picture. Leadership is also a large part of my work. How we understand leadership today can lead us into a better future. How can we develop a common idea of leadership (otherwise known as responsible leadership), what is responsibility really, who can take it and how can we empower people to take responsibility, in a team and on their own? This whole area of leadership (differentiating from typical management) as a group-dynamic process of taking on responsibility, is very important to me.
Being a board member of sustainable natives, what does having a leadership role mean to you?
Leadership does not belong to one person, it belongs to everyone. Leadership means that one has to take responsibility to empower a group of people and to really trust in them. We are currently three board members at sustainable natives, all elected by the members of the cooperative. It was very important to me that I did not take this role myself but that it was given to me. That is a key factor for leadership.
Moreover, the gender topic is one that lies close to my heart. After 1 ½ years since founding, we decided that the leadership of sustainable natives should be on a parity basis. Therefore we recently voted another woman on board. I believe that the world is better represented by the joint appointment of equal men and women. It is a more realistic representation of the world and of our cooperative. Leadership for me is not classically male but it is diverse. Diversity of people needs to be depicted in leadership and in our power structures.
Tell me about a project or accomplishment that you consider to be the most significant in your career.
I am very proud that I founded the CSR sustainability forum at the Chamber of Commerce and Industry of Berlin (IHK Berlin). Through the different events such as working groups, impulse lectures, panel events and of course the annual CSR day, it has resulted in the exchange of knowledge on the topic all around corporate responsibility. Many highly qualified experts nationally and internationally have had the opportunity to come together to discuss how to implement CSR into their businesses. For me, these events have been one of the most fulfilling and impactful. Nothing is greater than when you feel that others have learned something, felt inspired and made valuable connections, especially on a topic such as sustainability.
What sustainability communication trends do you love? Or which do you hate?
Sustainability communication is in fact still too cautious, too green or grey and too report-like. Unfortunately fun communication belongs to "the others". Sustainability communication has, in the last years, withdrawn itself to reporting, correctness and verifiability, because many have been lead on to believe that it could be greenwashing. Before a company risks to hear that word, they would rather be too cautious and communicate cautiously as well. Because, if you're fun, you couldn't possibly be serious about being sustainable, right? This is so not true. If you, as a company has done everything right you should be able to express that and celebrate it. If you act with love, you can communicate with love!
Communication in the sustainability segment is always between the topic of crisis and creativity. When you are dealing with the topic of change you will always have critics, seeing if you are doing it right, you are being permanently screened. If you have high claims you must have a good radar for what is susceptible to a crisis, and during all of that you also must not lose the fun. You can make it so desirable and fun so that your critics will be astounded how you managed it – between crisis and creativity.
What are you currently learning about now? Why is it important?
Currently I am learning a lot about working with self-organised teams as we at sustainable natives are in this state transformation and growth. We are exploring different forms of working together specifically digitally and how we want to develop our communication and feedback culture as a decentralised cooperative. I also am personally in my own transformation phase within leadership. I am researching and exchanging a lot with others on this topic, and developing my own concept for a two-way leadership. This means looking at the classic top-down and the revolutionary bottom-up approach and seeing where the middle is, and how we can build trust that the one or the other is doing the right thing. This for me is an especially interesting area where I am learning a lot about.
What's your superpower?
Trust. I have a lot of trust in people and I notice that people who are around me feel this trust. I think I bring that out of people. I make them feel that they can do things themselves, that they have good ideas and that can bring these ideas into action. I approach people with this, encourage and empower them to have fun, be a bit more daring than they normally would and trust themselves. That is my superpower.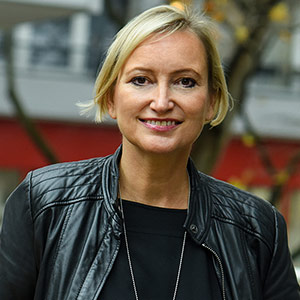 Antje Meyer is an entrepreneur, publishing expert, communications trainer and consultant for strategic communication and leadership. She is also a founding member and board member of sustainable natives eG.
Sofia Elisabeth is a trainee in communications at sustainable natives. She uses design and communication as a platform for initiating change and bringing mindful holistic approaches to this planet. Her focus lies in graphic design, illustration, social media, content creation, and English copywriting.